Leveraging omnichannel and mobile marketing is critical if retailers are to keep pace with the rapidly evolving sector.
In an increasingly pressurised environment, the future of retail and shopping is still an optimistic one, with both digital and brick-and-mortar stores finding ways to remain highly relevant to the overall customer shopping experience. Not only that, consumers are also expected to maintain, if not, increase their shopping expenditure[1].
Whether in a physical or an online store, the nature of shopping has evolved thanks to technologies that have reshaped the way we shop. These new technologies are also increasingly blurring the lines between 'marketing' and 'sales'.
The need for an omnichannel shopping experience
The surge in e-commerce channels has resulted in consumers moving online, but many are also still visiting physical stores to touch, feel, and try products. Customers are also increasingly relying on mobile devices to enhance their in-store shopping experience. For instance, in Australia, 65 per cent of customers have reported using a digital device to assist them before they go shopping, while 31 per cent of customers have reported using a digital device to assist them while in the store.
This trend is encouraging because it is a signal to retailers and brands that they ought to follow their customers' shopping habits and move to an omnichannel approach to market, sell, and serve customers—providing an integrated customer experience.
We see this happening with some retailers who are beginning to transform customer experience through the use of emerging technologies to create unique in-store activations to entice customers to share their shopping experience on social media or subscribe to owned-marketing channels and apps to help sustain the brand's reach.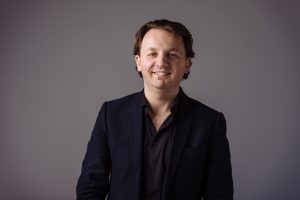 For example, in Australia, Stockland is one of the first retailers to introduce robots in its shopping
centres to interact with members of the public and even help carry shopping items to shoppers' cars[2]. My company, Shping—a global shopper-marketing and consumer engagement platform—has created an entire live and working ecosystem to reward consumers as they learn pertinent product information supplied by industry authorities and brands, simply by scanning product barcodes via the Shping app.
Putting new power into the hands of consumers  
As mobile becomes a popular channel for shopping, consumers are gradually gaining more power and control when it comes to browsing and purchasing items online. In the case of Shping, we have simplified the process of researching brands—where the products come from, and what it contains—all within a simple act of scanning a barcode while a customer is browsing in a store. The customer can even find out reviews of products before making an informed decision.
Additionally, retailers and brands can leverage the mobile age to better engage consumers through permission-based marketing, i.e. as consumers shop online, they give consent to receive information from brands.
Some common examples are when online users subscribe to receive discounts or exclusive offers and in return, give permission to be contacted via email.
With permission and through integrated platforms, brands will be able to monitor and analyse consumer behaviours and habits, and market specifically to consumers, making the experience a personal one for customers. For instance, brands can create personal and automated messages to reach consumers on a granular level, they can even market to consumers based on time, location, and demographic criteria provided by consumers.
Influencing shopping habits and purchase decisions
As consumers gain more power in making purchase decisions, brands and retailers can further influence them by rewarding shoppers for their engagement and loyalty. These reward schemes can come in the form of benefits such as exclusive members discount or offers, while others leverage consumers' instant gratification to offer instant rewards like a free gift when shoppers spend above a certain amount in a store.
Some of the top brands in Australia that are doing this well include Coles' flybuys, Woolworths Rewards, Qantas Frequent Flyers, and Virgin Velocity, where they have a combined number of 37 million memberships[3]. The rewards set and provided by brands and retailers aim to incentivise shoppers to engage and interact with them—ultimately creating an interaction and activity loop that benefits customers, brands and retailers.
As shopping becomes more integrated across multiple platforms, and consumers gain greater power in making purchase decisions, brands and retailers need to be smart and leverage the latest trends in retail to give customers what they really want. Only by doing that will they be able to successfully engage with customers and keep shoppers coming back for more.
Gennady Volchek is the CEO of Shping.
[1] https://www.pwc.com/gx/en/industries/consumer-markets/consumer-insights-survey/consumer-optimism.html
[2] https://www.smh.com.au/business/companies/robots-to-make-shopping-easier-20161205-gt410e.html
[3] https://www.smh.com.au/business/companies/what-business-really-wants-from-your-loyalty-card-20170920-gyl9x9.html