Image: a rendering of The New Stand ferry concession.
A New York start-up is challenging what a convenience store should be with its half store, half app concept.
The New Stand was founded in 2015 on the idea that "being convenient doesn't mean you have to be yawn-inducing boring".
It now has stores in three commuter-heavy locations in New York City, which carry things you'd expect to find at a convenience store—snacks, painkillers etc.—alongside a rotating mix of gadgets, fashion, art and media.
"We believe the minutes you spend going from point A to point B should be inspiring," the company says on its website.
"When you come into one of our shops we hope you're wowed by the design, the carefully curated selection, and our amazingly smart staff."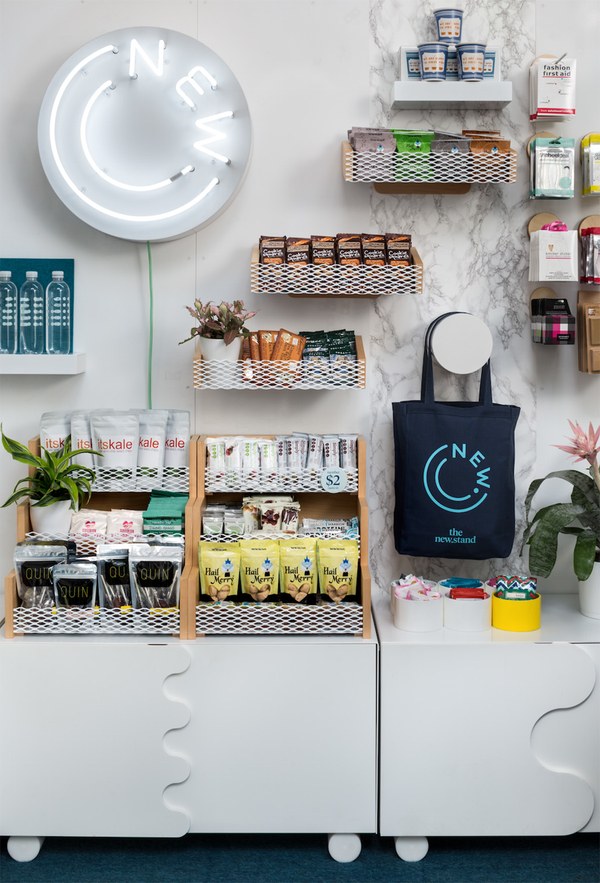 Unlike traditional newsstands, The New Stand doesn't sell many magazines or newspapers. Instead, it has a free app that is restocked every morning with articles, stories, products and music releases.
Customers can sync the app with their credit card for a speedy checkout, access rotating weekly deals and build up loyalty points to spend in-store.
Speaking to the Observer last year, CEO Andrew Deitchman said The New Stand is "a day improvement company".
"To me, in many ways that's kind of what newsstands were back in the day," he said.
"What would a newsstand be in a modern era? It would probably be something that is still really convenient, and part of that to us is having technology that lets people pay really easily…
"We also think that business spaces are living media onto themselves too, so the idea that I can walk into a place and discover something in the same way I might walk into a magazine—to actually experience that products."

Setting sail
With the existing stores a success, The New Stand is now taking its concept to the high seas with concessions in New York City ferries.
The retailer has signed a six-year contract with the ferry operator to open stores on all 20 boats, where commuters will be able to grab a snack or something to drink (including cold-brew coffee and cocktails), pick up a pair of headphones or even take part in a yoga class.
Deitchman told AdAge the company views these concessions as a way of monetising the ferries from a media perspective.
With a captive audience on board, The New Stand will use digital signage and screens to advertise brands and do product demos.
According to Ad Age, The New Stand will be expanding into hotels and airports outside of NYC later this year.
Want the latest retail news delivered straight to your inbox? Click here to sign up to the retailbiz newsletter.