Melbourne tech start-up, Gimme, is reshaping how goods are delivered with an app that offers a delivery service and on-demand personal shopping.
Using the Discovery page in the app, customers can search nearby stores based on a range of different categories, whether it be hardware or homewares. Once a store is selected, the customer browses through the website, chooses their products, links up with a driver and sends them the order, which will be delivered within two hours.
Customers can use screenshots or photos of any items to be collected or purchased via the personal shopper option.
For Click & Collect orders that are unable to be picked up by the customer, a Gimme 'Buddy' can sign a waiver to pick up the goods on their behalf.
Gimme founders, Matt Bartalotta and Christian Charisiou (pictured left to right above) have been friends since high school and were always eager to enter the business world together.
"We wanted to do something like a café or a food truck – something very hands-on – but after brainstorming potential business ideas, Gimme was born out of a shared sense of frustration when shopping online," the founders told Retailbiz in a recent interview.
"Shopping online is convenient, but it often falls down when it comes to delivery times. You can quickly order something but then you're left waiting days for it to arrive, or the alternative of going to the store to pick it up requires time and effort, which can be challenging for people working long or irregular hours."
Bartalotta and Charisiou wanted to create an Uber Eats style business model for the retail industry but without commissions, product mark ups, or limitations of partnerships.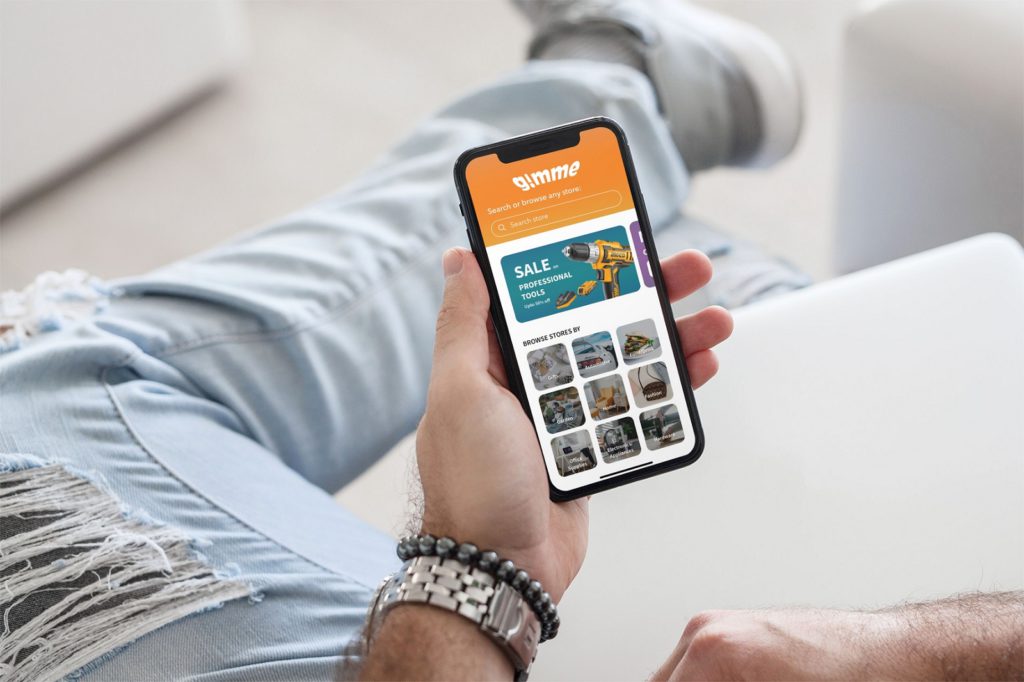 "We wanted to put more of the power into the customer's hands in a world where companies are only getting bigger, and convenience is only available to the big guys. We decided to flip this and get the small shop fronts involved in the growing online shopping market," the pair said.
The Gimme shopping cart currently caters for up to four different products from a single store. Alternatively, customers can order from up to four different stores by booking in four separate jobs. The driver then has the option of job stacking if there is a reasonable distance between the stores and drop-off location.
"When a customer places an order, Gimme will charge the card for the price of the items and delivery fee with the funds being held in escrow until the delivery is accepted and the driver scans the QR code on the customer's app. At this point, the driver is reimbursed with the funds. If an order is cancelled before the items are delivered due to change of mind, the customer won't be charged."
Gimme drivers register with an ABN and undertake an onboarding process to learn how to accept an order, find the products and get reimbursed upon successful delivery. When an order is placed, the driver who is in closest proximity to the job receives a notification and is provided with most of the job information including the location and the amount they need to spend.
"Driver feedback has been great so far. They get paid to walk into the store, in addition to the trip between store and final delivery location, which is something we are proud to offer them. We asked ourselves, 'how do we make it more attractive for drivers?' and 'what can we offer that's different?
"We also offer virtual credit facilities through MoneyMe for drivers who don't want to use their own funds through the app. They can apply for a virtual card and gain access to credit with incentives and bonus offers."
When asked about the road ahead, Bartalotta and Charisiou said they aim to get a stronger foothold in Melbourne and Sydney with an expansion into Brisbane on the cards for early 2022.
"We want to increase our driver base and customer order numbers, so we are in discussions with a number of ASX-listed companies for partnerships. But we want to keep our business decentralised," the pair said.
"It's all about improving the speed of shopping and maintaining our 'arrive, pay and collect' model to reduce delivery times. We don't want to limit our customers but instead enhance the service whether its through business strategic partnerships or retail partnerships moving forward.
"In early 2022, we will also launch another app feature – Script Delivery – working with doctors and pharmacies to offer on-demand script delivery. It will be as simple as taking a photo of the script and getting it delivered within two hours."