InStitchu co-founders James Wakefield and Robin McGowan.
James Wakefield and Robin McGowan had no retail experience when they founded online made-to-measure suit business, InStitchu. Rather than hold them back, this allowed them to create a different kind of retail business, one that embraced technology and was free of the traditional pain points.
"Robin and I had just entered the workforce and faced the same issue as lots of young people—you're expected to have this whole corporate wardrobe," said Wakefield on what inspired the pair, then in their early twenties, to start InStitchu in 2012.
"We looked at the way most guys buy suits here in Australia, and it really was a time-consuming process full of pain points and risk.
"In this day and age where you've got very efficient business models, it seemed like the suit industry was stuck in a time warp. We went about trying to disrupt the market and change the way guys buy suits, offering a better product, a better fit, at a better price, and with a better experience."
Having seen the high-quality, affordable tailoring coming out of Asia, Wakefield believed the solution was to build a platform that linked consumers with these craftspeople. Shoppers would go online, customise every aspect of a suit (collars, cuffs, fabric, buttons, etc.), enter their correct measurements by following a series of video instructions, and have the finished suit sent to them anywhere in the world.
InStitchu launched with this pure play online model, but the pair quickly realised the Australian consumer wasn't ready to purchase a suit online, let alone a tailor-made one. Based on customer feedback they began rolling out physical showrooms and now have six locations in Australia (with two more on the way), one in Auckland and one in New York.
The showrooms have an old world charm, offering a space where customers can relax with a whiskey while a style consultant guides them through the process of taking measurements and choosing fabrics. The traditional tailoring experience stops when it comes to ordering, however, with the showrooms powered by InStitchu's online platform, which was custom built by its in-house tech team.
"We are a technology business at heart. Although the showrooms offer an affordable luxury experience, orders are still placed through our website and fulfilled in the same manner as an online order," said Wakefield.
Business is currently split evenly between the online and offline channels, but Wakefield said the idea behind the showrooms is to give customers the confidence to go online for their next order.
"The showrooms are the place you go to get measured and check out fabrics…with the idea being that the customer's next order will be done from work or home on the computer."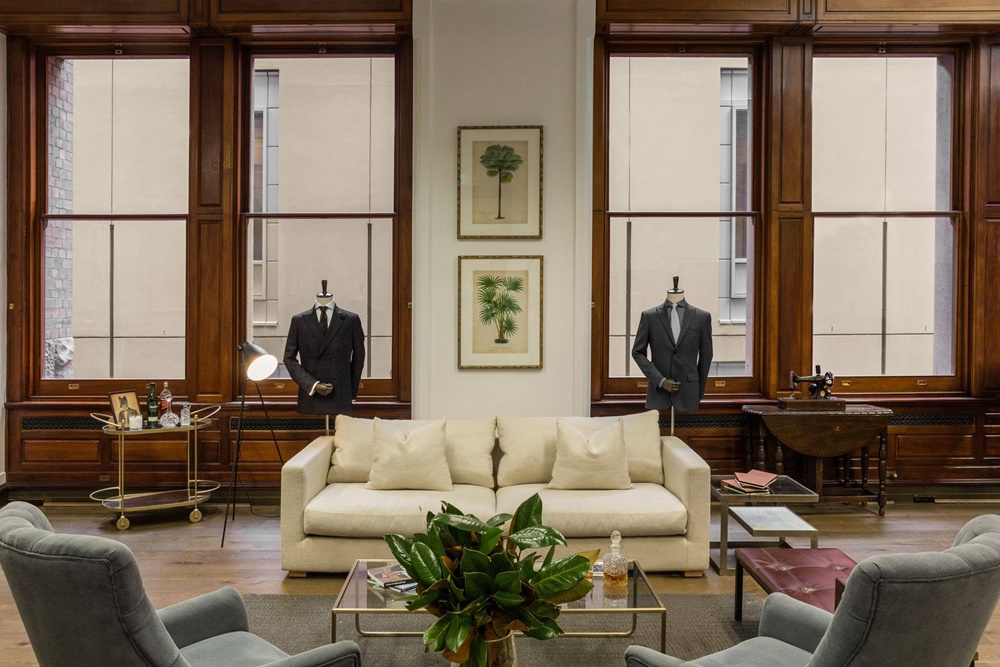 InStitchu showrooms have an old world charm.
Eliminating traditional pain points
Having no prior experience meant Wakefield and McGowan approached InStitchu without preconceived ideas of how to run a retail business. Their focus on custom products also meant they could avoid some of the pitfalls of traditional retail, like holding stock and paying expensive leases.
"Everything we do is vastly different to traditional retail. All of those pain points of traditional retail—like spending hundreds of thousands of dollars on inventory every season that you have to discount or write off—are exactly what we tried to avoid and our lack of retail experience is what allowed us to challenge things.
"Each time a customer places an order we go and create that product, which means we can be lean and dynamic and adapt instantly to changes in consumer preferences and trends. Ultimately it's the consumer who dictates what product gets designed; whatever they want, they get."
Although not every retailer can offer custom products, Wakefield said traditional retailers can learn from InStitchu's customer-led approach.
"Listen to the customer. Don't try to tell the customer what they should want or how they should be shopping—let the customer tell you and drive the direction the brand goes in."
Data driven
InStitchu listens to its customers by collecting data, and employs a full-time data analyst to look at potential cost savings and revenue opportunities.
Wakefield said InStitchu uses this data to drive strategy around product mix and to inform decisions like where to open showrooms. The retailer is opening a showroom in Adelaide this month followed by Perth in July, because the data showed there was a customer demand. It also recently opened a dedicated wedding showroom in Sydney.
InStitchu also uses data to bridge its online and offline channels and create a streamlined shopping experience. Around 80 per cent of visitors to an InStitchu showroom make an appointment, and the retailer tracks the customer's online interactions with the brand—for example if they spent time on InStitchu's weddings page—until they walk through the door.
InStitchu's dedicated wedding showroom.
It builds a profile of each customer, tracking data like measurements along with information about the shopper's interests and whether he wears a suit to work.
The in-store style consultants have access to this information, allowing them to build rapport with customers.
"We have such a huge opportunity to leverage a customer's online interactions to our offline showroom experience," said Wakefield. "We're using data and technology to create one store experience across the online and offline channels.
"Building out that customer profile allows us to create a better experience for our customers—we're creating a more streamlined experience."
As a technology business, Wakefield said InStitchu is constantly testing ways to incorporate more tech into its physical stores. There are plans to introduce virtual mirrors this year, to help customers visualise what their finished suit will look like.
"We're looking for fun and engaging ways for customers to get an experience different to traditional retail. What we're trying to do is create something different, leveraging technology."
Sign up to the RetailBiz newsletter.