The coalition loyalty model, which emerged in the 1990s, makes great sense in theory, with non-competing businesses from different sectors collaborating on a program in which the whole is greater than the sum of the parts.
However, recent re-structures at two high-profile coalition schemes have raised questions about their future – Sainsbury's taking full ownership of Nectar from Aimia and Air Canada acquiring Aimia's stake in the Aeroplan scheme.
In this article, I argue that while the traditional coalition model faces challenges, technology enables a new, more sustainable model for coalition programs based on a digital currency that can be earned and burned in real-time among coalition partners.
Coalition programs first emerged around thirty years ago because of the significant benefits from collaboration. The partners in the coalition share costs and get a much fuller view of the customer than is possible in a single business scheme.
For the customer, there is the opportunity to "earn" rewards more quickly and to "burn" tips in more ways. For example, with current restrictions on travel, an airline scheme may be able to keep members engaged if they have options other than flights to redeem points.
In practice, however, coalition programs also face challenges that have been difficult to overcome:
There is a potential conflict between the interests of the company running the program and the participant businesses. Businesses in the program may want to maximise their access to shared data and exposure in member communications. However, the company running the program may have a different goal. For example, it may seek to maximise financial returns by allocating marketing activity and analytics resources to the highest bidder.
For the member, the potential benefits of a shared currency are often not seen in practice because the ability to earn and burn across partners is restricted. For example, many airline schemes offer the ability to earn points in fuel partners. However, there is much less flexibility in redemption, with few fuel partners providing the ability to burn points or redeem promotions using the airline's loyalty currency.
And the first signs of an alternative coalition model are already emerging in the last few months, based around a real-time digital currency:
In Canada, Loblaw and Esso announced that Loblaw's PC Optimum scheme members can earn and burn points in Esso's network of 2,000 Canadian fuel outlets. Esso customers will have the option to redeem their PC Optimum points in real-time for services such as fuel and car washes. While Esso will discontinue its scheme, Esso Extra, it's transitioning to using Loblaw's PC Optimum points as its sole loyalty currency.
In the UK, Virgin recently launched a group loyalty program targeting 15 million members. The coalition consists of both Virgin group companies (including Virgin Atlantic) and a network of partners. The significant innovation in Virgin's approach is that members can burn Virgin points in real-time in physical stores, for example using their points to buy one of Greggs the Bakers' famous sausage rolls.
The matrix below highlights where traditional programs sit relative to the new model used by these digital pioneers: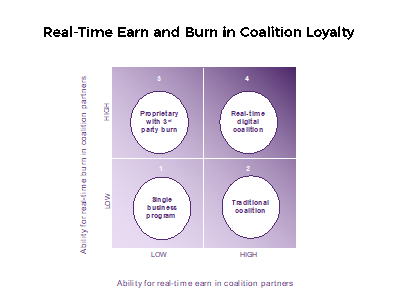 In the bottom left, #1 quadrant, sit most single-business proprietary programs. Here, members earn and burn rewards in the same business, for example, a $10 voucher earned by spending a certain amount in the same retailer.
Most coalition programs sit in quadrant #2, with the ability to earn in a network of partners but a limited or non-existent ability to burn in real-time. Instead, members must typically access an online portal to redeem points, either with businesses that can fulfill rewards online or for rewards like gift cards distributed by email.
Some proprietary programs sit in quadrant #3, offering the ability to burn but not earn points in partners. A well-known example is Tesco Clubcard which gives members the option to exchange Clubcard points for vouchers redeemable at attractions like Legoland and restaurants like PizzaExpress.
In the top right #4 quadrant sit the emerging group of digitally-led coalition programs. Here the scheme offers members the option to earn and burn rewards in real-time with partner businesses, including those with physical stores. This model is still rare as it relies on the partner businesses being connected to a real-time personalised digital loyalty platform.
So, exciting times ahead for this new model of coalition loyalty based on a trusted digital currency. I expect this approach will be very attractive to businesses that prefer not to operate a stand-alone loyalty program as it combines the benefits of a shared currency with the flexibility of a proprietary program. Coalition programs that can't offer the flexibility of a real-time earn and burn will likely see partners exiting, and that's already happening in several markets.
Jonathan Reeve is general manager for Asia Pacific at Eagle Eye.